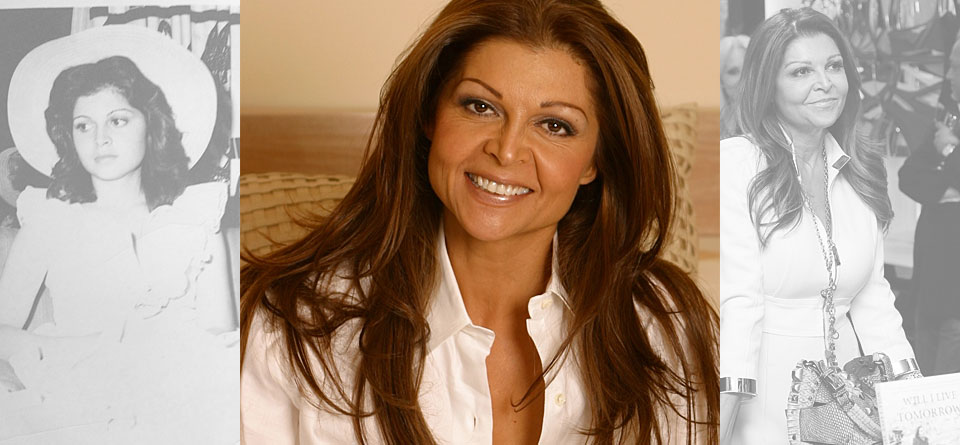 Driven to action by a yearning to help the people of her native Afghanistan, Sonia inspires and motivates audiences all over the world.
Sonia Nassery Cole embarked on her life-long journey of human rights and Afghan liberation activism as a teen, shortly after escaping from Afghanistan amid the chaos of the Soviet invasion of 1979. It was at this time Sonia felt her calling, her heart compelling her to compose a nine-page plea for help addressed to the most powerful man in the world, President Ronald Reagan. In this letter she argued:
"We cannot sit in the US pretending it is not happening. When human right are violated anywhere, they are violated everywhere."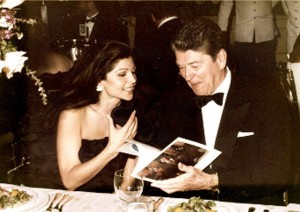 Nobody — not even Sonia — believed she would receive a reply. But within a week, the world began to change when Sonia received a phone call from the White House. President Reagan had read Sonia's letter, and he was so touched, he invited her to the White House to share her stories and ideas with him personally.
Sonia's journey did not end with meeting President Reagan. She was invited to testify in front of Congress, where she delivered a passionate account of the human rights atrocities she witnessed taking place in her homeland. Her testimony was pivotal in securing Congressional authorization for the deployment of Stinger missiles to Afghanistan, which were then used to drive out the Soviet Communist forces.
Afghanistan Relief Committee
As the US military worked to displace the Soviet regime, Sonia began service work on the Board of the Afghanistan Relief Committee. The organization, formed by past U.S. Ambassadors to Afghanistan under Chairperson Jeane Kirkpatrick, tasked Sonia with pulling together a major fundraising event to raise awareness and draw much-needed attention to the desperate circumstances of millions of Afghan refugees who were fleeing their homeland to live in squalid border refugee camps.
Sonia quickly secured the backing of Vice President George H.W. Bush, who served as an Honorary Chairman of her first fundraising event, A Night for Afghanistan, in early 1987. Hugely successful, the event was followed by a series of similar galas in major cities, culminating in a 1992 event at the Regent Beverly Hills Hotel, where President Reagan accepted the Freedom Award.
For all of her hard work and unfailing commitment to the people of Afghanistan, Sonia was recognized with a Peace Medal at the United Nations.
Afghanistan World Foundation
To raise awareness and funds for projects, such as the construction of the Mother and Child hospital in Kabul and the rebuilding of Afghan schools, Sonia began planning Time to Give: A Celebration of Freedom.
In May, 2002, after the 9/11 tragedy and the international US-led coalition response, Sonia formed the Afghanistan World Foundation to garner additional aid for the people of Afghanistan.
Top political leaders, including Afghanistan President Hamid Karzai, former US President George H.W. Bush, President Bill Clinton, and former First Lady Nancy Reagan, attended or endorsed the event. During the event, Muhammad Ali was honored for his humanitarian work as a United Nations Messenger of Peace in Afghanistan.
Millions of people in the United States and abroad tuned in to watch  Time to Give: A Celebration of Freedom on their televisions. The event was successful in expanding awareness of the needs of the people and the reconstruction of Afghanistan.
Sonia's Book and Film Works
In April, 2004, Sonia returned to Afghanistan with a team to aid school reconstruction efforts and build alliances with many ministries and charitable organizations working in Afghanistan. During this trip she met Farouk, a nine-year old Afghan boy who supports his family of six by selling newspapers and calendars literally in the streets of Kabul. Compelled to share this story of hardship and perseverance with the world, Sonia produced her documentary, The Breadwinner.
The Breadwinner exemplifies the hardships of everyday life for the majority of Afghans, as well as their strength and determination to persevere. The Breadwinner premiered at the Milan International Film Festival and screened on Capitol Hill for USAID, The World Bank, and the Council of Foreign Relations.
Sonia wrote, produced, and directed the feature-length film Black Tulip. Based on true events, Black Tulip explores the tragedy, struggles, and hopes of a family risking all to create and foster an open and progressive culture in war-ravaged Kabul.
Black Tulip has garnered numerous accolades, including four awards at the Beverly Hills Film Festival, Best Feature Film at the Salento and Boston International Film Festivals and was featured on CBS, NBC, ABC, the New York Times, Reuters, and Voice of America.
Sonia recently completed her first book, Will I Live Tomorrow? The Making of Black Tulip, which describes the extortion, government corruption, kidnapping attempts, and death threats Sonia and her crew faced while filming Black Tulip in Kabul.
Will I Live Tomorrow? The Making of the Black Tulip is currently available on Amazon and is set for hard copy publication in summer of 2013.